IS04: Antenna Technologies for Spaceborne SAR
Wednesday - 3:00-3:40pm - Room Havane
Pasquale Capece
Thales Alenia Space, Italy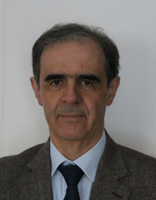 Pasquale Capece received the degree in Electronic Engineering in 1985 from La Sapienza University in Rome. From 1987 he works for Thales Alenia Space Italy on Space Antenna Department where he is responsible for Active  Antenna group.  As RF electrical designer before and then as project manager, he has participated to several SAR Antenna design and studies. In particular he has been responsible for the development of X SAR Antenna, Cosmo Sky Med Antenna, Kompsat 5 antenna, Sentinel 1 Electronic Front End  design and production. 
Abstract
The Presentation will provide an overview of the most significant Space Antennas for spaceborne SAR systems both based on planar aperture and  on reflector systems.
Active phased array architecture  will be presented with  focusing on RF aspects, digital distribution and power subsystem.
Thermo-mechanical aspects will be also considered and discussed.
An overview of the technologies used for radiating elements, TR modules and beam forming will be reported.
Technology for Reflector antennas will be also presented including benefits and drawbacks vs planar systems.