Get-together dinner with traditional French cuisine
SOLD OUT

- Thursday 23 March, 2017
Come and meet up with your friends and colleagues at a typical French restaurant. With more than a century of history behind it, "Les Noces de Jeannette" is a restaurant located in the very center of Paris. This place is anything but pretentious and serves a delicious French cuisine prepared with local products, complemented with a variety of wines from independent winemakers.
You can have a glance at the place here: www.lesnocesdejeannette.com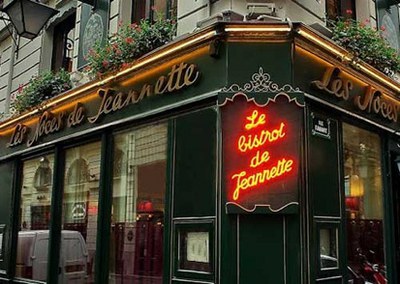 The dinner will take place on Thursday evening at the special price of 35 € (for delegates and accompanying persons), which does include the full dinner with beverages. Registration must be done with the registration online system.
The menu
Aperitif
Kir & canapé
Starter
Pesto-marbled goat's cheese terrine with salad
Main Dish
Spiced roasted duck
Dessert
Opera cake with crème anglaise
Beverage

Wine Bordeaux

Mineral water

Coffee
Seats are limited and will be confirmed on a first-come, first-served basis.
Restaurant "Les Noces de Jeannette"
14, rue Favart
75002 Paris
Access
Richelieu Drouot (Metro lines 8, 9)
Opéra (Metro lines 3, 7, 8)
Bus – Richelieu Drouot stop (lines 20, 39, 48, 67, 74, 85)