Accommodation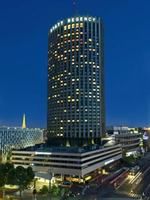 The congress center of Paris boasts a range of hotel facilities in direct proximity, combining more than  4,500 hotel rooms and 22 492 hotels rooms in the close surroundings.
Its location right at the heart of Paris grants access to a wide range of hotels.
Right alongside it there are two 4-star hotels, each offering 1,000 rooms, the Hyatt Regency Paris Etoile, linked to the conference venue and the Meridien Etoile, across the street.
Hotel locations in the vicinity of the congress center are shown here and the corresponding map can be downloaded here.
List of hotels ordered by distance from the congress center can be downloaded here.
Find your accommodation in the vicinity of the Palais des Congrès here.
You can also consult the Paris tourism office website to book your accommodation: http://booking.parisinfo.com
Cheaper accommodations for individual or small groups may be found at: