IK01: A Whirlwind of Innovation in Space Technology
Monday - 10:00-10:40am - Room Bordeaux
Jean-Claude Souyris
CNES, Toulouse, France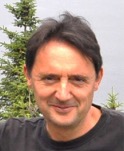 JC Souyris joined the Radar System department at the Centre National d'Etudes Spatiales (CNES), Toulouse, in 1997, where he conducted R&D studies in radar processing, electromagnetic modelling, radar polarimetry, interferometry and altimetry. He was appointed Head of the Altimetry and Radar Department, in charge of spaceborne radar altimetry payload development (JASON, AltiKa, SWOT, CFOSAT, …) between 2008 and 2014. He is presently Head of the Valorization and Technology Department, in charge of orbital systems R&T programs. JC Souyris authored or co-authored several books and articles dedicated to radar image and signal processing, and radar physics. He served as the technical chairman of IGARSS'03, Toulouse, France.
Abstract
This presentation will primarily turn the spotlight on the hot topics of the moment in Space activities: the arrival of new players, mainly from the digital world where young millionaires discover a passion for space and are receptive to the idea that space can be conquered by private entrepreneurs; the emergence of large scale satellite constellations; the enthusiasm for nanosatellites enabling the academic world to nurture its training and research ambition; the growing volumes of satellite data, and the development of space applications fuelled by the spectacular transition to the digital economy.
We will then address some of the key technologies for the Space of tomorrow (including those in the field of RF technics, antennas, and propagation), that need to be mastered in order to adapt to the foreseen changes.
The talk will finally be illustrated by an example of innovation management in a timeline of 25 years in the field Earth Observation based on RF and antenna techniques (radar altimetry) for ocean observation and water management.