IS01: A Special Antenna Gain Measurement Technique
Thursday 3:40 - 4:20pm - Room Havane
Chi-Chih Chen
Ohio State University, USA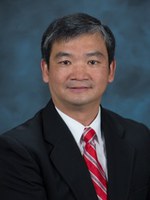 Dr. Chen received his B.S. degree from National Taiwan University, Taiwan in 1988, and his M.Sc. and Ph.D. degrees in electrical engineering in 1993 and 1977, respectively, from The Ohio State University. He has been with The OSU ElectroScience Laboratory since 1993 as a Postdoctoral Researcher (1997~1999), Senior Research Associate (1999-2003) and Research Scientist in (2004~2011). He is currently a Research Associate Professor at OSU Electrical and Computer Engineering Department.
Dr. Chen's research interest focuses on developing novel antenna and radar technologies including UWB antennas, dielectric antennas, small antennas, GPS/GNSS antennas, wearable antennas, phase array, fully polarimetric ground penetrating radars, automobile radar technology, RF energy harvest and power delivery. Dr. Chen is a co-founder of two start-up companies - Nikola Lavs and iVSAFE. HE has published 58 peered reviewed journal papers, 165 conference papers, 5 book chapters, 1 co-authored book, more than 80 technical reports, and 5 patents. 
Dr. Chen is currently an IEEE Fellow and an AMTA Fellow and has served as AMTA Technical Coordinator (2012-2013), President (2014), and Past President (2015), and Technical Program Committee member of EUCAP, International Ground Penetrating Radar Conference (2006), IEEE APS/URSI Symposiums, IEEE Phase Array Symposiums. Dr. Chen received OSU College of Engineering Lumley Research Award in 2004, 2010, and 2016, Innovation Award in 2016. He is also a member of Exploration Geophysicists Society, Sigma Xi, and Phi-Kappa-Phi.
Abstract
Conventional antenna gain measurement techniques such as the reference antenna method and three-antenna method involve transmission (S21) measurements of additional antennas in addition to the antenna under test (AUT). This not only increases the amount of measurements but also introduce error associated with setup changes and reference gain accuracy. The scattering and unbalanced current radiation from the cable connected to AUT can sometime introduce measurement error. Furthermore, the power loss associated with the long cable used in the S21 measurements below VHF and above Ku band becomes a major limitation factor in measurement sensitivity. This talk discusses an alternative antenna gain measurement technique based on backscattering measurement of the antenna. This approach completely eliminates the cable connected to the antenna as well as reference gain antenna. The methodology and simulation examples of antenna gain pattern measurements will be demonstrated. The accuracy and limitations of this method will also be discussed. This gain measurement could be very useful for determining gain patterns of antenna in situ such as antenna on chip, wearable antennas, and antenna on wafer.