IS08: Overview of OTA Testing of 5G Enabled Devices
Wednesday - 3:40-4:20pm - Room Bordeaux
Philippe Garreau
MVG,  Microwave Vision Group, France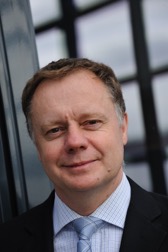 Philippe Garreau was born in Nantes, France in 1962. He received his Engineer Diploma from Supélec – Centrale Engineering school, Paris in 1990 and graduated Ph.D from university Paris XI Orsay, France in 1994.
He became a "graduate trainee" of the European Space Agency, ESTEC in the Netherlands studying rapid measurement techniques combined with the use of compact antenna test range and spent the following 24 years designing near-field innovative multi-probe measurement systems dedicated to the test of high performance communication and aerospace and defence antennas.
From 2002 and for 10 years, he has provided courses at SUPELEC on Compact Test Range measurement systems.
In 1992, he joined SATIMO as engineer and took the presidency and the general management of this company in 1996. He has developed this company for the next twenty years ensuring significant growth while issuing continuously innovative near field measurement solutions. He has developed this company by opening or by integrating companies distributed worldwide. This company is now recognized has a group called MVG as "Microwave Vision Group" and is leading its sector of activity.
He is still active in R&D, has authored and co-authored conference papers on antenna measurement topics, and holds 10 families of patents for a total of 79 international patents.
Abstract
The promise of 5G and internet of things (IoT) is a future in which an inconceivable number of everyday devices are connected with incredible speeds.
4G was the first mobile system actually designed with global standardization. This was one of the key factors in the success of 4G and the speed of its deployment. Today, the main objective of the communication community is to realise common standards for 5G and build a global system. The deployment of test systems at various prestigious events will then follow. The 2018 Winter Olympics in Korea and the 2020 Summer Olympics in Japan are examples of such pilot systems. Finally, users will have 5G devices and will enjoy the full performance of this new technology.
We know that test and measurements of 5G enabled devices and base-stations will differ widely from what we are doing today. 5G implies higher and widely available spectrum at frequencies up to 100GHz, which can accommodate the implementation of Massive-MIMO involving multiple small antennas and in-device processing. This will move the emphasis from the antenna towards system testing. Important parameters, determined from conducted testing for 4G, will likely be performed in Over-The-Air (OTA) setups in tomorrow's 5G. This puts a strong requirement on the measurement industry to provide effective testing solutions to developers, industries and regulators.
As testing technology, the very effective multi-probe systems have evolved with the development of 1 to 4G technology in the last 25 years. It is today a reference for OTA testing of such devices. While concepts such as testing in near and far field (NF, FF) is less critical in current 1-4G standardisation, NF testing and NF performance of devices is likely to be a critical issue for 5G. In this paper/presentation we will give an introduction to existing measurement technology and a vision on the evolution of testing technology for 5G enabled devices.